People have been gathering around fires for thousands of years, and there's no wonder why. Outdoor fires allow you to comfortably enjoy crisp fall weather with friends and family. They provide a focal point of warmth and light that is incredibly inviting.
These days, there are countless options to bring the ancient allure of fire to your backyard. Masonry fire pits and outdoor fireplaces can be custom designed to match your needs and seamlessly integrated into a new or existing patio.
The modern development of gas-powered fire bowls and pits eliminates the need for firewood as well as woodsmoke that can be offensive to some. Instead of a traditional wood-burning flame, these sleek new fire elements produce flames that dance upon a bed of lava rock or colorful glass beads. These can be activated at the push of a button and are ideal for close-quartered sitting areas.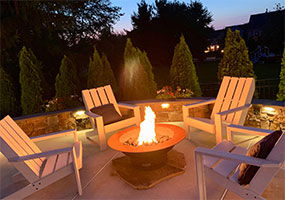 If you would like to stick to more traditional fire pits, portable, shallow fire pits or pot-bellied fireplaces can easily match the décor of your backyard space. These movable pits also allow for flexibility of location, so you can move the fire source based on the size of your gathering.
Cooler temperatures need not drive you indoors for the season. With your own fire pit, your friends, family and neighbors can fully enjoy the fall.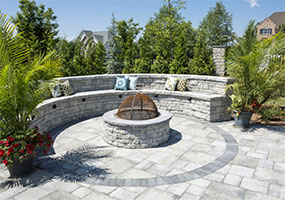 Thank you for your business!
We sincerely appreciate the opportunity to work with you, and this business wouldn't exist without clients like you.
Another important tool for our business is online reviews. Positive online reviews help prospective customers decide to call us, and we would love for you to take a few minutes to visit one or more of the sites below and leave a positive review of our company.