Our Goal is Simple: TO CREATE BEAUTIFUL, FUNCTIONAL CUSTOM POOLS THAT EXCEED OUR CLIENTS' EXPECTATIONS
We are a full service pool and landscape design firm. That means you are choosing a specialist in creating beautiful, functional, outdoor environments to fit your home and your lifestyle. We will produce scaled drawings to illustrate how your in-ground swimming pool design will look in your space, to help you to visualize your finished project. When you work with Blue Tree, we will guide you every step of the way to complete your entire project, from masonry selections to pool design and construction, to the surrounding landscape.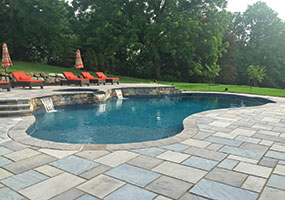 Need an in-ground pool renovation? If you already have a pool and it needs to be updated or repaired, Blue Tree can help. We'll be happy to work with you to update your in-ground swimming pool and protect your investment.
As owners of Blue Tree, we are committed to delivering superior, personalized service to our customers in landscaping, hardscaping, and pools. We share in the belief that at the end of the day, all you have to live by is your reputation.
Pools With Pizazz
On a hot summer day, few things are more welcoming than a swimming pool in your own backyard. Few things make your yard more useful than the ability to take a refreshing dip with family, friends, or even by yourself.
While the practical benefits of having a pool are pretty obvious, there are several modifications that can be made that can take a pool to the next level. An adjacent spa allows for options when it comes to water temperature. An adjoining spa where water flows from the smaller spa to the larger pool adds a unique sense of motion.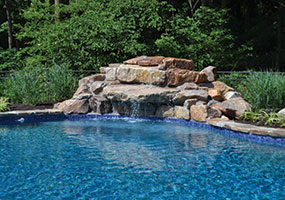 Other features can introduce a natural feel to your pool. Rocks can be used to connect your existing landscaping to the pool. One of the more dramatic additions you can add is a waterfall cascading over a series of boulders into your pool.
If you prefer a more elegant design over a natural theme, there are several options to explore. Sharp detail and fountain effects can be used to turn your pool into a moving, flowing work of art. A sheer descent is one such feature that creates a continuously flowing sheet (or sheets) of water that empties into your pool from an elevated water source.
To go along with these features, today's technology allows you the ability to have complete control over all aspects of your pool. With iAqualink technology, you can monitor and control aspects of your pool such as water temperature and pump status – all from your phone.
Your pool can be much more than a concrete hole filled with water that is used to cool off. It is the most prominent feature of your landscape so let us make the most of it!