Kick Off The Year With Spring Cleanups
In the early spring, your yard is similar to an empty canvas waiting to be filled with color and texture. To make sure that it ends up being the piece of art you want it to be, it pays to start with a clean slate. A thorough spring cleanup is a key first step to preparing your yard for a great season.
While you were spending most of your time indoors the past few months, winter was busy taking its toll on your lawn and landscaping. Even with a thorough leaf removal in the fall, stray leaves from late-falling trees or neighboring properties have a habit of accumulating over the winter in the nooks and crannies of your landscaping or hardscaping.
Winter also has a way of working loose dead limbs or branches from your trees and into your plant beds and turf areas. This deadwood can host harmful pests while encouraging fungal growth. It also litters your landscape and any outdoor living spaces.
Dead debris, trash, and old growth from the previous season all inhibit new spring growth. Removing all this "yard garbage" allows air, water, and sunshine to reach the soil, where perennials lie in wait. A comprehensive spring cleanup can happen before new spring growth has you scrambling to keep up, so don't hesitate to give your lawn this valuable leg up on the new season.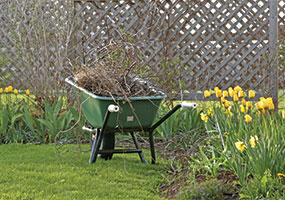 ---
Thank you for your business!
We sincerely appreciate the opportunity to work with you, and this business wouldn't exist without clients like you.
Another important tool for our business is online reviews. Positive online reviews help prospective customers decide to call us, and we would love for you to take a few minutes to visit one or more of the sites below and leave a positive review of our company.