We're Here For You All Year
In our business, things are always growing and changing. Trees spread and get larger; lawns fill in; new grass seed takes root; and each year flower beds and shrubs have a little different look. Each season makes its own mark on your lawn and landscape in a special way.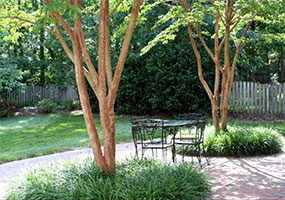 One of the best changes we've seen from season to season is the way our customers depend on us more each year to give their properties the care they need. From weeds to insects, and from crabgrass to disease, we handle thousands of questions and problems every year…making the world a little better place to live.
We appreciate your business, and we're glad you know you can call on us anytime you have a question.
Now, during these months between seasons is the perfect time to remember and to plan. Thinking about the last season can help you get ready for the one coming up. What projects need doing? What little problems didn't get solved last year? Planning the season in advance can mean better results…and could save you money too!
So What is Hardscaping, Anyway?
These days, the term "hardscaping" is bound to come up in any conversation about landscape improvements…and for good reason. Hardscaping is a great way to bring added form and function to your property while complementing the existing plantings in your landscape.
If you're unsure of what hardscaping means, here's a basic definition: Adding structural elements to a landscape that are made out of hard (non-plant) materials. Common hardscaping materials include stone, brick, water, wood and lighting.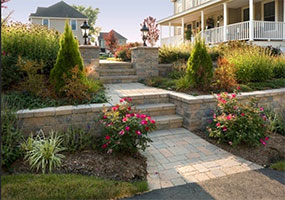 THERE ARE ALL SORTS OF STRUCTURAL ELEMENTS THAT CAN BE CREATED THROUGH HARDSCAPING, SUCH AS:
• Walls
• Terraces
• Walkways
• Decks
• Patios
• Cooking Areas
• Fireplaces or Fire Pits
• Water Features
Properly planned and constructed, each of these items can transform the beauty of your landscape into a wonderful extension of your home.