Winter's here…so spring's not far behind!
Now that the holiday celebrations are over and schedules are getting back to normal, it's time to start planning for the next season on the horizon. Getting ready for a new growing season can be a lot of fun. You can sit by your fireplace and imagine the lush greens of spring and the long days of summer while you take a few minutes to set up the new year's projects and programs.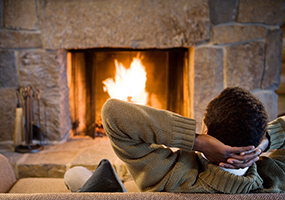 If last year you had a few lawn or landscape projects in mind that somehow slipped through the cracks of your to-do lists, planning now for the new growing season will help you jump start the new year.
Feel free to give us a call if we can help with any of your ideas.
We thank you for your business, and we look forward to serving you!
Hardscaping with Guests in Mind
Even from the curb, our eyes are trained to focus on the front entry of a house. A well-designed landscape takes advantage of this natural tendency and draws our eyes' focus even more, while also making the property as inviting and comfortable as possible.
Think about every step your guests take, from their car to your front door. If your driveway is just wide enough for their vehicle, are they forced to step on the grass or a flower bed to get out of the car? If so, you can add a little space with a border of stone pavers, which create a decorative and functional solution.
As your guests head toward the door, is your path or walkway wide enough for two people to walk side by side? If not, replacing or expanding that path is the perfect opportunity to add character and charm to your home by selecting materials and shapes to match your house's architecture. The sheer number of options will astound you.
Finally, whether you have a small stoop or a large porch, it's good to make sure your entryway is a relaxing and comfortable space. After all, the mood you set outside the door carries over the threshold and into the rest of the house. Ensuring the porch surface is safe is important, of course, but small touches like a bench or a special seasonal planting can go a long way, too. When thinking about the impression your home makes to your guests, it all starts with those first steps. Be sure to consider every part of your entry to be as welcoming as possible.