Cleaning Up Your Lawn This Fall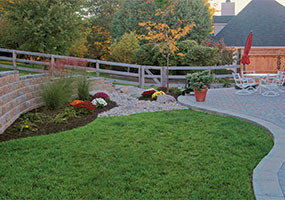 If you think it's far-fetched that cleaning up your lawn this fall won't have any impact on a beautiful spring lawn, it's time to think again. Caring for your lawn now has a huge impact on the new season's growing period. Since you don't want to wait until temperatures are too cold or even freezing to get outside and get things done, fall is the right time to give your lawn a little TLC and get things in order.
Rake It Up
The fall scenery with its red and yellow leaves sitting pretty on the ground is always aesthetically pleasing. Do you ever wonder who's going to clean all that up? Well, if it's on your property, then it's going to be you! But despair not. Here's what you need to know about leaf removal.
Do not leave fallen leaves on your grass for more than a few days since it can kill the grass and even mold over time.

Consider raking directly onto tarps. This is especially great if you intend to compost.

Making raking leaves a regular part of your weekend chores so the leaves won't pile up and be too overwhelming.

When you are done racking, you'll need to know how you'll handle the leaf disposal. We recommend composting them for some green mulch.
Weeding
Do you know when they say "Nip it in the bud"? It really applies here. Those weeds that are everywhere in spring begin to germinate during the fall. Your best bet is to stop them now by pulling weeds and treating your lawn to prevent a recurrence. Pro tip? Work smarter, not harder by watering your lawn before you begin weeding to loosen the soil.
Keep It Healthy
A little water goes a long way in keeping your lawn green and healthy. Also, use a phosphorus-rich fertilizer to encourage root growth. Just wait till spring, and you'll be treated to a rich, green lawn.
Time For Trimming
Keep the lawnmower out of the garage for now. Up until winter sets in, grass will keep growing, albeit slowly. You want to keep it at 3 inches in height. Anything longer could lead to the growth of snow mold which you won't notice till it's too late in spring.
General Landscape Maintenance
Landscaping doesn't have to be expensive. Cleaning out the gutters and trimming the bushes can go a long way in giving your lawn a new look, as well as a healthy one.
A little bit of lawn care and landscape maintenance now will save you a ton of work later and ensure your backyard looks picture perfect for spring. If you have any questions about your lawn or the best ways to ensure a healthy lawn year-round, give the experts at Blue Tree Landscaping a call today.
About Blue Tree Landscaping
Blue Tree Landscaping proudly creates custom outdoor living spaces while respecting and enhancing the natural beauty of your surroundings. We specialize in providing Montgomery County the best inground pool design and construction, as well as serve as the area's expert in landscape design. For more than 36 years, Blue Tree Landscaping has been dedicated to providing Skippack, Collegeville and the surrounding areas with superior customer service, quality pool construction and beautiful outdoor living areas meant to be enjoyed for years to come. You can expect personalized service in all that we do and the kind of care that has been built on a reliable reputation since 1983.