Landscaping
Landscaping Services for Montgomery County
If you look up "landscapers" in the dictionary, you'll find a vague definition about someone who arranges items in a landscape or garden attractively. If you ask us, not a very useful definition!
Our role as your landscaper has expanded far beyond routine lawn maintenance and planting a few flowers. Today, our clients are looking for services that cover a broad variety of outdoor projects from lawn care to patio design and installation to comprehensive landscape design.
Design, Installation and Much More!
Blue Tree clients appreciate our creative, practical, and personal approach to custom landscaping. Our goal is to create a beautiful landscape design that will enhance your life and grow increasingly magnificent over time.
On our first visit, we will study your existing landscape, and discuss your needs and dreams, from installing an in ground pool, to creating the perfect landscape lighting environment that suits the way you use your outdoor space, to designing your perfect garden. Our clients include property owners who want to preserve and restore existing landscapes, homeowners seeking a complete landscape scheme for a newly constructed residence, and those who fall somewhere in-between. Our role is to create a customized plan for your unique home site and lifestyle.
Personalize Your Landscape
Take a moment to think about what you want in your landscape.
How would you like to use your yard and garden?
What views are important from inside your home?
What are your color preferences?
Are children and pets a consideration?
What plants and trees do you prefer?
Is there a need for more privacy?
More shade?
Better use of outdoor space?
Your ideas will help our landscape designers personalize your landscape plan. Call us today at 610-222-0590 for all of your landscaping needs!
Studies have shown that your garden landscape can impact the value of your home. Here at Blue Tree, we're not sure that an official study was needed. Think about your own reaction when you drive through a neighborhood - maybe even your own. Curb appeal matters, and an important element in creating curb appeal is the front landscaping that people see as they drive by your home.
Overgrown grass and shrubs. Trees that need pruning. Garden beds that need new mulch. None of us like to come home to these things! Blue Tree Landscaping is your solution for curb appeal - from routine lawn maintenance to creating a custom landscape design plan, we guarantee that we can deliver curb appeal to your neighborhood!
Landscape Design Services
We believe that a good design is fundamental to creating an outdoor space that meets your needs. We create garden designs that consider things that are important to you – things like colors you like, plants you like, your use of your outdoor space. We then couple that knowledge with our technical expertise – what we know about plants, trees, and shrubs: what will grow well in our climate; when will plants flower; what plants require shade and which thrive in full sun. We'll combine these elements with a design plan that considers your existing outdoor environment, your hardscape options, and of course, your budget.
Backyard Landscaping Ideas
Curb appeal matters, but most of us spend more time in our backyard – on our deck, in our swimming pool, or on our back patio. Our landscape architects can design a plan for your back yard that incorporates existing elements, or that creates a brand new space. If you have an idea, we can help bring it to life! We will also make suggestions, based on the space we're working with.
In considering your backyard alternatives, think about how you want to use your space. Do you do a lot of outdoor entertaining, or would you like to? Do you need a dining area with an outdoor kitchen or are you a little more relaxed – gathering around a fire pit on a crisp autumn evening? Whatever your lifestyle, we can accommodate what you're looking for.
Flowers
No garden landscape plan is complete without considering flowers. Annuals or perennials? Do you have a plan for all seasons? We'll help you decide what should go into your flower beds. The choice is always yours, but we'll give you some expert guidance on how to keep your beds looking their best by selecting the proper plants for your space and providing care instructions that are easy for the home gardener to follow. Of course, we can help with the heavy lifting – fertilizing, weeding, mulching and other maintenance that might escape your best intentions.
Fencing
A fence is said to be the "picture frame" of your property, identifying you and your family to the neighborhood. At Blue Tree Landscaping, we will turn your outdoor living space into an extension of your home with a fencing solution that is beautiful, yet functional and durable.
Trees & Shrubs
Hand selected for height, hardiness, seasonal interest, shade, deer resistance, and screening, trees and shrubs may be used as foundation plantings, in islands or borders, and as individual specimen plantings.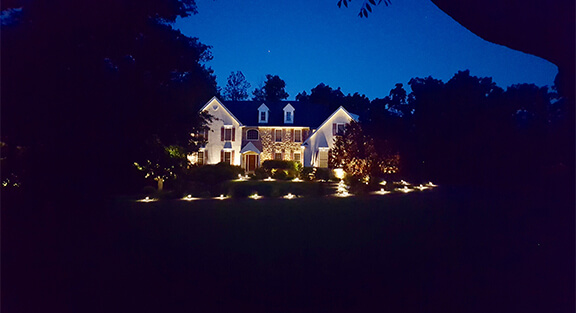 Landscape Lighting
Landscape lighting extends the enjoyment of your landscape into the evening while adding security for your property and convenience for you as a homeowner. Appropriate lighting is an integral part of the landscape for both practical and aesthetic reasons.
Blue Tree incorporates landscape lighting into many of the designs we create for our clients. Landscape by day can change dramatically by night. And the look you can achieve with outdoor lighting can range from dramatic to romantic to practical. So how do you decide?
Here's a quick list of questions to consider when deciding on your lighting plan. If you need help to decide what look you want, call us! We'll be happy to work with you on garden lights that fit your lifestyle and your budget.
Landscape Outdoor Lighting Checklist:
What is your objective in installing outdoor lighting? Do you want a dramatic, show stopping effect or do you need to provide a light source for dark areas of your property? Perhaps you want to incorporate some ambiance to your back deck, making it the perfect spot for a romantic al fresco dinner. Keep in mind that your plan might be different for different areas of your garden.
How do you want to turn the lights on and off? Will you use a timer, or do you want to flip a switch?
How much of your property are you interested in lighting? Do you want to illuminate your driveway and the walkways around your property? Would some up-lighting create a dramatic effect?
Do you have an outdoor kitchen or dining space that requires special lighting? Work space lighting for the cook, with ambient lighting for the seating area?
Do you have any security concerns that can be minimized by a lighting solution?
Do you want to show off your hardscape elements, like retaining walls, steps or a pool deck? Lighting can be used to highlight these areas.
Are you interested in minimizing your power usage? If so, low voltage landscape lighting might be the best solution.
Do you want onlookers to see your light fixtures or just the effect of your lighting choices?
Pointing lights up or down can create an interesting visual effect. Are there places in your landscape for these techniques?
We work with major manufacturers like Vista Professional Outdoor Lighting and Kichler Lighting in bringing attractive lighting solutions to our clients. Blue Tree. Your source for landscape lighting.
Read More
Spring/Fall Clean-Up
Lawn care is often on our mind at the start of the growing season and at the end. Mulch, plant care, pruning, edging, winterizing beds, and leaf clean-up are all services that Blue Tree provides to our clients. In order to maintain a green and weed free lawn, we also work with our clients on an ongoing basis on customized turf maintenance programs.
Site Work
Correcting drainage problems, adjusting swales, grading, and excavation. Landscapers can correct all of these structural problems with your outdoor space. Keeping water away from your house is an important maintenance measure. There is nothing quite as destructive as water damage inside your basement or your home. Often times we can correct water issues by regrading your yard to pull water away from your home. If you're having a structural issue with your yard, talk to us to find out what your options are.
Blue Tree Landscaping provides service to the areas listed below:
Audubon
Blue Bell
Cedars
Conshohocken
Creamery
Eagleville
East Norriton
Evansburg
Fairview Village
Green Lane
Gwynedd
Gwynedd Valley
Harleysville
King of Prussia
Kulpsville
Lafayette Hill
Lansdale
Lederach
Limerick
Mont Clare
Norristown
North Wales
Oaks
Perkiomenville
Phoenixville
Plymouth Meeting
Royersford
Schwenksville
Skippack
Spring Mount
Sumneytown
Trappe
Trooper
Valley Forge
West Norriton
West Point
Worcester
Read More