Warm and Inviting Fire Elements
As the nights grow cooler this fall, there's no need to move the party indoors. The clean ambiance of crisp autumn evenings can't be beat, as long as you're able to keep warm. Fortunately, several hardscaping options can help keep your outdoor living space cozy and inviting during the fall.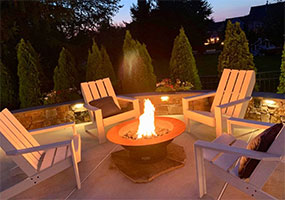 There's something uniquely rustic about an open wood fire. You can have a pit dug into the ground and built up with stone walls if you like. Often, fire pits will include a wall at the right height for comfortable seating and the right distance from the heat. A well-designed fire pit will become the focal point of your outdoor evenings as night cools off and your party heats up.
For a more formal look, consider a brick or stone fireplace with shelves and storage space for wood. These hearth structures are very prominent features that are attractive even when not in use. A further option is to incorporate a built-in grill or a "pizza-type" oven into the design. A fireplace designed and placed properly can serve many functions for your outdoor life while adding both pleasure and increased value.
Instead of crowding around the TV this fall, opt for the inviting warmth of a backyard fire. Fall is a glorious time of year. Adding a fire element to your landscape allows your family and friends to enjoy it to the fullest.