Fall Is Ideal for Softscaping
Your landscape can be broken down into two main categories: hardscapes, which are all the solid and permanent elements like patios, walkways and walls, and softscapes, which are all the living elements like trees, shrubs, and annual and perennial plants. Over time, landscapes can become overgrown for their space, crowding walkways and blocking windows. If the plantings in your landscape are due for a refresh, fall is a great time to tackle softscape renovations.
Replacing overgrown trees and shrubs with properly sized plantings is a surefire way to give your landscape a fresh look.
Why Plant in Fall?
Most homeowners think of spring as the best time to plant, but there are several compelling reasons why autumn is the ideal season for adding softscaping to your property.
Plants Prefer Fall Temperatures: In autumn, the soil retains warmth, which is great for root development, while cooler air temperatures reduce heat stress on the above-ground portions of the plant.
Fall Is Prime Time for Root Growth: As temperatures cool, plants shift their efforts away from top growth and toward root growth. This natural shift in plant growth behavior helps new plants establish a stronger root system before winter.
Reduced Pest Issues: Pests and insects tend to be less active in the fall, further reducing stress to new plantings.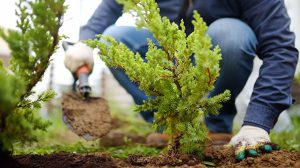 By planting in the fall, you give your plants a head start for the following spring.
Whether you need something simple like new walkway perennial beds or a more substantial renovation of your foundation shrubs and ornamental trees, fall is a perfect time to set a plan for new softscapes in motion. Contact us to get the process started!