Outdoor Fireplaces: Elevate Your Outdoor Experience
As the nights grow cooler this fall, there's no need to move the party indoors. With their unique blend of functionality and aesthetics, outdoor fireplaces are the perfect addition to transform your outdoor area into a captivating retreat.
There's something uniquely rustic about an open wood fire. Outdoor fireplaces create a captivating ambiance that effortlessly draws people together. From roasting marshmallows with the kids to outdoor dinner parties with friends and family, your fireplace will provide a charming backdrop for every occasion.
Outdoor fireplaces are more than just a functional addition; they are visually stunning features that enhance the aesthetic appeal of your outdoor space. Fire features can be created in various styles, from rustic to contemporary, ensuring that you find the perfect match for your taste and existing décor. They instantly become a captivating focal point that adds depth and character to your outdoor living area.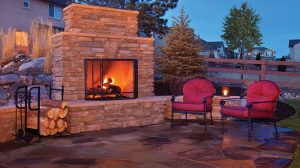 Adding an outdoor fireplace is not only a source of joy and comfort for you and your loved ones, but it also adds value to your property. Outdoor living spaces are highly desirable in today's real estate market, and a well-designed fireplace can significantly increase the appeal and resale value of your home.