Landscaping Challenges that Commercial Property Owners and their Managers Face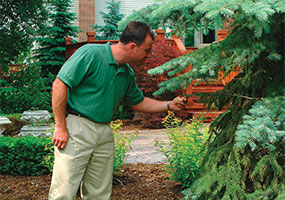 Property managers and owners of those commercial properties have tremendous to-do lists, and one of them is making sure that any landscaping located on the property is healthy and attractive. Communication is key, but knowing what problems or potential trivialities to look for is the first step to maintaining a successful property. Here are some common challenges faced by commercial property owners and managers, and how to stay on top of them!
Water and Drainage Systems
Low water pressure is a minor issue, compared to the potential for building and landscaping damage. As one of the highest risk malfunctions, drainage systems and water lines need extra attention. Broken pipes or sprinkler heads, mold and mildew, and over-watering are all threats to the landscaping and the building's structure. Keep a procedure in place for inspections and maintenance checks, and let tenants know that all water-related issues should be reported immediately.
Tricky Layouts
Some commercial properties boast interesting outdoor layouts and landscaping that make traditional maintenance difficult. Walkways, signs, planters, and unique hardscaping details are just a few obstacles that prevent consistent landscaping care. Communicating with landscapers, architects, and tenants to work through present care techniques is crucial to overcoming any future issues.
Weather
Like any home with manicured landscaping, commercial properties are privy to damage from seasonal weather conditions. Property owners and managers may not be in the same geographical area as their tenants, so paying attention to daily weather conditions is a must. In addition, keeping up appearances is imperative as well! Rotating out flowers and perennials that may perish in the warmer months, or struggle in the cooler months, will maintain a fresh landscape and ultimately help the budget in the long run. Gardeners and landscapers will help with this, so communicating desires about seasonal foliage and plants will achieve an aesthetic that is sure to please.
Construction
Office buildings, studios, and other commercial properties see a lot of residents come and go. As a result, the buildings undergo many changes, and construction workers and contractors are in transit transporting supplies to accommodate the occupants. Plaster, nails, and other forms of debris can settle between plants and in the soil. To avoid this, keep a schedule of remodels and communicate with the contractors to ensure smooth operations.
Contact Blue Tree
We want to help! Blue Tree Landscaping has services available to assist commercial properties from excavating to drainage problems and beyond. Contact our team of experts to get started today!