Landscaping and hardscaping such as porches, decks, and yards are extensions of your living space. With established outdoor living areas, your home extends beyond the walls of your house. To feel comfortable, however, you need privacy. Walls and fences create privacy, but they can be too confining and expensive. Landscaping for privacy using "living screens" provides a natural alternative.
The first step in creating a living privacy fence is picking plants that are appropriate for your property. Shrubs or trees used for a natural wall should be tall enough to cover the desired space and should also be suited for the area in terms of water and sunlight requirements. You may want to consult a landscape professional who is well acquainted with the characteristics of the various plants that are best suited to your climate and soil.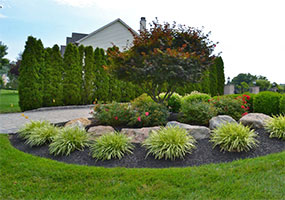 Younger plants will be cheaper and easier to install but can take years to reach their mature size. If you need privacy quickly and are willing to spend a little more, buy larger plants for quicker results. Regardless of age, it is important to know the maximum size the new trees and shrubs will reach and space them accordingly.
Another option for screening your property is an earthen berm or mound with plantings, which serves as a living hillside. The berm should not be too narrow or steep, because a broad, gently rising area blends with the yard more naturally.
Privacy landscaping is an effective, natural way to increase the privacy of your yard and maximize your enjoyment of the outdoors. Done correctly, it can increase the value of your property without breaking the bank.
---
Thank you for your business!
We sincerely appreciate the opportunity to work with you, and this business wouldn't exist without clients like you.
Another important tool for our business is online reviews. Positive online reviews help prospective customers decide to call us, and we would love for you to take a few minutes to visit one or more of the sites below and leave a positive review of our company.