Another Growing Season Comes to a Close
Until Next Year…
It's hard to believe that this year will be over soon! It's been great working with you this year, and we hope you've been satisfied with our services. Your business means a great deal to us, and we're always working hard to keep you happy.
We thank you for your confidence in us, and we look forward to working with you again next spring. Have a great winter!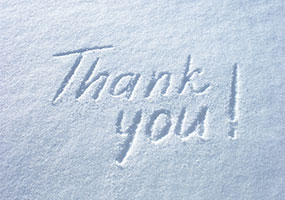 A Wonderful Winter Landscape
With a little planning, your landscape can be as beautiful in the winter as it is in midsummer. The key is to add multi-seasonal interest by incorporating multiple shapes, colors and textures. Here are some ways to do that:
Evergreens can be used as a backdrop against which to accent other species. From 6" high creeping junipers to 40' arborvitae, and from shades of green to silvery blues to deep violets, the choices in evergreens are many.
Antidesiccant spray, a waxy substance that is applied to evergreens to prevent them from drying out in the winter, will make them glisten in the winter sun. So, by protecting your evergreens, you can add a little sparkle to your winter landscape too!
Brightly colored berries look great in winter landscapes. Hollies may be the best-known berry producers, but barberries, pyracantha and cotoneaster all provide colorful berries as well.
When sweetgum trees lose their leaves, they leave behind spiked balls that can serve as natural hanging ornaments.
Heathers and heaths are low-growing evergreens that will provide shades of pink, lavender, orange, red or rust in both their flowers and foliage.
Red-twig dogwood will add color by displaying its thick red branches after losing its leaves.
Tall, reedy ornamental grass varieties will turn tan in color when they dry. This may not be interesting on its own, but it looks great against the backdrop of a beautiful evergreen.
You don't have to stop enjoying your landscape just because of winter weather. There are lots of plants to choose from that will keep your property looking wonderful all winter long!
REMEMBER
Landscapes can still be beautiful in the winter.
Variety is the key to an attractive winter look.