Fall is Fantastic for Adding Looks and Livability to Your Landscape
Fall may sometimes be associated with the slowing of your outdoor work, but it's actually a time for having landscape work done.
If your landscape needs some reworking or a complete redo, fall is a great time. We'll clean up, give your property a great "face lift," and leave your place primed for spring enjoyment. From the entryway to the driveway, and from ground covers to lawns, fall is for planting!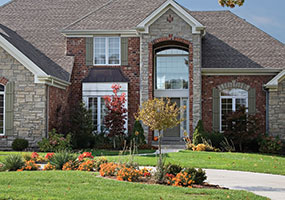 New plantings can easily go in now. Fall-planted shrubs and trees establish quickly because their green parts have stopped growing, making nutrients more available to their roots. The root system that develops now will support rapid growth and green-up in the spring. Supplies and selection are great in the fall, so let us install that longed-for spring bloomer or row of screening shrubs.
Maybe your entryway could benefit from some sprucing up. If shrubs are straggly, blocking views from inside or detracting from your home's exterior features, we can help. We'll trim up or pull out those monsters, tidy up ground cover areas, and widen beds. We can help you choose shrubs that will stay in line and provide seasonal color and year-round beauty that you'll love coming home to. We also have lots of ways to improve and widen walkways to make your home more accessible and welcoming.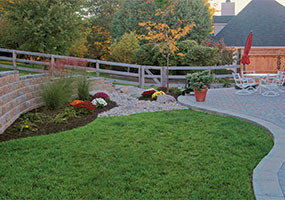 Are you ready to finally add the pool, gazebo or hot tub your family has been asking for? Make next year's outdoor season complete by having it put in now. You'll be able to enjoy it from the first warm days. Whatever your landscape needs, we're ready to help. Our crews are less busy than during the spring rush, so please give us a call with questions or to schedule a personal consultation.
Fall Fertilization Key to Good Spring Start
Your landscape plants use cooler fall weather to begin building up a stockpile of food that will be needed for the growth demands of spring. They do this by converting the nutrients from fertilizer into carbohydrates that they can store as food.
Older roots grow thicker and fatter, and new roots form to absorb and store the available food. The more extensive and healthier the roots become during this important growth period, the better prepared the plants will be to green-up earlier and thicker while fighting off problems caused by disease, temperature or pests as the spring season progresses. With the recommended heavy fall fertilization, we can jump-start this important process of root development.

THE MANY BENEFITS OF FALL FEEDING
Improving the root system and building adequate food reserves has significant and direct positive results on your plants. Below are a few of the reasons your landscape and lawn should be heavily fed every fall:
• Root systems grow deeper and more extensive. This allows the plants to better stand up to the stress of both heat and drought as the season progresses.
• Resistance to some cool-weather fungus diseases increases.
• Winter color of both turf and evergreens is improved.
• Well-fed plants hold water better through winter, resulting in less plant "burn."
• Blooming performance of most flowering trees and shrubs improves.
• Lawns grow denser, thicker and greener.
As with the growth and health of people and animals, both your lawn and landscape need regular, healthy food to maintain vigor, fight off sickness, and discourage pests. Although the feeding cycles are different between people and plants, it's just as true that depriving your valuable landscape plants of proper nourishment when they need it the most will lead to much poorer performance and possibly higher maintenance costs in the long run. For more information, give us a call today.