Landscape Planning Pays Off
In the middle of winter, landscape improvements may not be the first thing on your mind. Having a working landscape plan long before installation is the key to maximizing your landscaping efforts. There's no time like the present to start thinking about new projects.
Landscapes consist of several different parts, including walkways, hedges, trees, flower beds and patios. Thorough, professional planning ensures that all of these elements work together both visually and practically.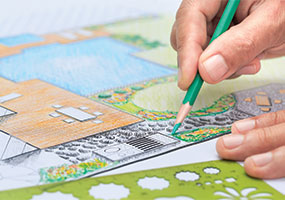 If you have an older landscape, you might consider a systematic plan for rejuvenating a small section of your property each year. This will help spread landscape renewal expenses out over several years while "keeping up" with the aging of your plants. By focusing on just one or two areas at a time, there will be less distractions to slow down your progress.
Even if your immediate plans only include a few modest improvements, a comprehensive plan will help you get the biggest long-term bang for your buck. With a solid plan of attack, you can set priorities and formulate manageable timelines so that your landscape comes together evenly over time.
Landscape installation should be enjoyable, not overwhelming. Planning carefully now will make a large project manageable, resulting in a beautiful landscape that you will be proud of for years to come.
Pool Planning
The best way to get through this frigid time of year is to set your sights on summer. Your backyard may currently be a frozen wasteland, but in a matter of months it could be your own oasis of fun in the sun.
If you have ever thought about installing an in ground pool, now is the time to do it! Pool planning and preparation begins in the winter and ensures that your backyard will be the place to be once summer arrives. With a new pool in the works, the winter will be over before you know it!