Landscaping for Privacy and Shade
The summer sun is fantastic, but it is definitely possible to get too much of a good thing. The right amount of shade allows you to maximize the amount of time you get to spend enjoying your outdoor living spaces.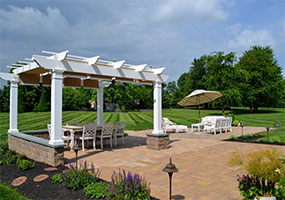 Majestic trees such as oaks and maples are great for shade. The problem is that these trees take decades to reach maturity – not exactly a quick fix. Of course, that's not going to take care of your problem right away. For an immediate solution, a table/umbrella combination or an awning can be added to your existing patio or deck. If you want to establish something more permanent, a wooden gazebo can be both attractive and practical.
Vinous plants are a great way to infuse natural shade if you have a structure in place. Vines such as morning glory, grapes, or clematis will quickly spread throughout fences, gazebos, or pergolas. Vines can be easily planted in tight areas and typically require little or no maintenance. As vines climb and fill in their space, they turn a bare latticework into a living shade wall.
The oppressive heat of summer makes it tempting to seek out air conditioning as you neglect your outdoor living spaces. However you create it, shade will make your outdoor areas cool and comfortable all summer long.