Getting a Handle on Grubs
Grubs – they're almost as ugly as the damage they cause. These pests are so sneaky, it's often difficult to even know they're doing damage until it's too late. Worse yet, they usually pick the most lush lawns to feast on.
WHAT ARE GRUBS, AND WHERE DO THEY COME FROM?
Grubs are actually larvae of beetles. Most are off-white with brown heads, and they're known by the "C" position they take when disturbed. Grubs overwinter underground and begin feeding on turf roots in spring and summer.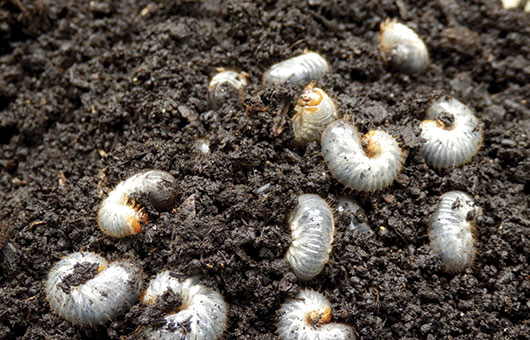 HOW CAN YOU TELL IF YOUR LAWN HAS GRUBS?
Grub feeding leaves irregular brown patches, and the lawn may have a spongy feel. Sod will roll up like loose carpet if the roots are already destroyed. The only way to know for sure, though, is to gently pull up a small section of sod. If you see more than four grubs per square foot, you have a problem. Lawns with severe grubs can have 40-60 per square foot.
NEW TREATMENT CAN STOP GRUBS BEFORE THEY GET STARTED
A new treatment, imidacloprid (one brand is Merit), takes a new approach to grub control. The treatment is applied to soil and taken up by plant roots. It doesn't harm the grass, you, or other plants, but it turns your lawn itself into a deadly choice for hungry grubs. Imidacloprid is 90-95% effective. It lasts longer and requires a lower dosage than other types of traditional grub treatments.
TIMING IS EVERYTHING
Unlike other treatments, this one must be applied weeks before grubs are active, so grass plants have time to take it in. If you miss the timing, standard applications still work, but if you suspect you may have grubs, give us a call. We'll evaluate your lawn and recommend an appropriate treatment.