As the nights grow cooler this fall, there's no need to move the party indoors. There are several hardscaping options for keeping things warm and cozy outside well into the night, extending the fall season.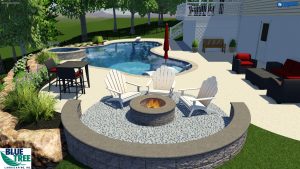 Fire Pits and Fireplaces
There's something romantic and rustic about burning wood outdoors. You can have a pit dug into the ground and built up with stone walls if you like. Often, fire pits will include a sitting wall at the right height for comfortable seating and the right distance from the heat. A well-designed fire pit will become the focal point of your outdoor evenings as night cools off and your party heats up.
For a more formal look, consider a brick or stone fireplace with shelves and storage space for wood. You can also incorporate a built-in grill or a "pizza-type" oven into the design. A fireplace designed and placed properly can serve many functions for your outdoor life while adding both pleasure and increased value. These are great ways to extend your days and the season by adding comfort and beauty to your patio.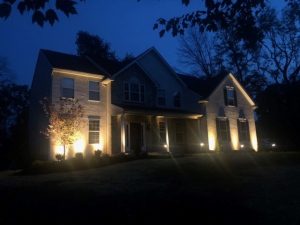 Low-Voltage Lights For Navigating Safely
Regardless of the temperature outside, proper lighting is essential for extending the use of your patio into the nighttime hours. Low-voltage exterior light fixtures come in an amazing variety of types and sizes. There are ground-level lights on stakes and well lights that send their light upward onto a wall or into a tree. There are also hanging lights that can be suspended from tree branches or any structure. This type of lighting can provide ample illumination to help you and your guests move about safely. Plus, the low-voltage requirements won't drive up your electric bill.