Put Your Feet up in the Fall Breeze!
Most people associate summertime with rest and relaxation. However, fall is an excellent time to relax in the crisp, cool air and enjoy the outdoors. Here are our tips for putting your feet up in fall weather, and enjoying the mild season before winter rolls around!
Prepare for All Weather
Autumn temperatures can be unpredictable, and you may need to adjust to being outside. Portable fans are useful for warmer weather and can be moved inside when it gets too cold for them. Invest in a heat lamp or some cozy blankets for chilly nights. That way, you and your guests can stay comfortable no matter what the evening weather brings.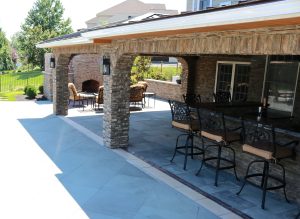 Set Up A TV
An outdoor television set boasts a variety of uses. Play movies or shows while eating meals, or stream music during parties. For an added fun element, hook up an Xbox or Wii to play games and add some entertainment to a gathering. Just make sure to set up your TV away from open spaces where moisture or animals could damage it.
Keep the Grill In Use
Summer cookouts don't have to come to an end because the sun sets earlier in the day. Set up a powerful lantern or lighting system to maintain good vision while standing at the grill. Don't forget to clean and treat the grate, gas tank, and exterior after the meal, to keep the setup in prime shape for cooler weather.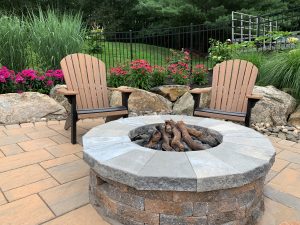 Create Gorgeous Seating Areas
Designate a spot in your yard or on the deck for some comfortable outdoor furniture for your relaxation or entertaining. For a calm oasis, place that seating area under a pergola in a gazebo in a quiet corner of the yard to achieve that environment. Choose a sectional couch or a collection of plush armchairs for lounging. During this time of year, it may be in your best interest to choose durable fabrics that will stand up to rain or storm debris and decorate with throw pillows and other plants and knick-knacks to match the season.
For a dining area, make sure to investigate weather-resistant tabletops and chairs for long-lasting furniture. To adorn them, gather fall leaves and a cornucopia of squashes and vegetables to set the tone for the season. Don't forget to grab decorations for the fall holidays too!
Contact Blue Tree
Ready to transition into fall relaxation? Our team of experts can assist with fall landscape clean-up, patio renovations, and so much more! Call or drop us an email to create your ideal fall look today!